symptoms & Diagnosis
symptoms & Diagnosis
Presentation of XLH in children
XLH is not just a childhood bone disorder—the symptoms affect the whole body from childhood to adulthood. Signs and symptoms of XLH vary in presentation and severity.
The signs and symptoms your patients are suffering from may be connected.1,2
Symptoms of XLH in children
Childhood symptoms of XLH may vary and appear early in life, with some manifesting as rickets and osteomalacia. Chronic low levels of serum phosphorus negatively impact bone formation, dental development, muscle/nerve function, and energy levels.1,3,4
Every patient with XLH is different. A patient does not need to show all of the following symptoms to have XLH.
Skeletal defects
Chronic hypophosphatemia leads to defective growth plate development and bone mineralization.5
Skeletal symptoms present as:

Rickets
3,5
and
osteomalacia
3,5

Lower extremity abnormalities3
(eg, leg bowing and knock knees)


Other skeletal symptoms include:
Craniosynostosis1,2
Delayed walking1
Muscular dysfunction
Chronic hypophosphatemia also affects the muscles in the body.
Muscular symptoms present as:
Stiffness7,8
Pain7,8
Weakness7,8
Gait disturbances7
Dental abnormalities
Chronic hypophosphatemia can lead to dental defects caused by improper mineralization of dentin, enlargement of the pulp chambers, and defects in the enamel.1,2
Dental symptoms present as:

Dental abscesses
1,2
and
tooth loss
1,2,8
Other symptoms
Chronic hypophosphatemia can lead to additional symptoms in children.
One of those symptoms presents as:

Because some symptoms of XLH may not be visible like chronic pain or fatigue, it is important to listen to your patients. Getting an accurate diagnosis can help you manage the full range of symptoms they may be experiencing.
XLH progression in real patients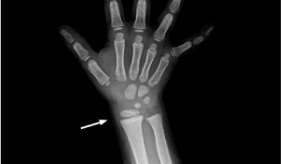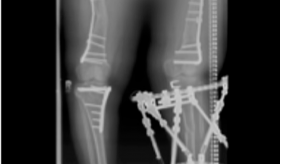 ---
Connect the symptoms and take the next step
Learn more about XLH
Watch videos to get more information about how XLH affects the body.
Set up time with a representative to talk more about XLH, or sign up for news and information about XLH.
References:
1. Linglart A, Biosse-Duplan M, Briot K, et al. Therapeutic management of hypophosphatemic rickets from infancy to adulthood. Endocr Connect. 2014;3(1):R13-R30. doi:10.1530/EC-13-0103 2. Ruppe MD. X-linked hypophosphatemia. In: Adam MP, Everman DB, Mirzaa GM, et al., eds. GeneReviews®. Seattle (WA): University of Washington, Seattle; February 9, 2012. Updated April 13, 2017. https://www.ncbi.nlm.nih.gov/books/NBK83985/ 3. Carpenter TO, Imel EA, Holm IA, Jan de Beur SM, Insogna KL. A clinician's guide to X-linked hypophosphatemia. J Bone Miner Res. 2011;26(7):1381-1388. doi:10.1002/jbmr.340 4. Hamilton AA, Faitos S, Jones G, Kinsley A, Gupta RN, Lewiecki EM. Whole body, whole life, whole family: patients' perspectives on X-linked hypophosphatemia. J Endocr Soc. 2022;6(8):bvac086. doi:10.1210/jendso/bvac086 5. Carpenter TO. Primary disorders of phosphate metabolism. Endotext. Accessed February 3, 2023. https://www.ncbi.nlm.nih.gov/books/NBK279172/ 6. Linglart A, Dvorak-Ewell M, Marshall A, San Martin J, Skrinar A. Impaired mobility and pain significantly impact the quality of life of children with X-linked hypophosphatemia. Bone Abstracts. 2015;4(P198). doi:10.1530/boneabs.4.P198 7. Skrinar A, Dvorak-Ewell M, Evins A, et al. The lifelong impact of X-linked hypophosphatemia: results from a burden of disease survey. J Endocr Soc. 2019;3(7):1321-1334. doi:10.1210/js.2018-00365 8. Trombetti A, Al-Daghri N, Brandi ML, et al. Interdisciplinary management of FGF23-related phosphate wasting syndromes: a Consensus Statement on the evaluation, diagnosis and care of patients with X-linked hypophosphataemia. Nat Rev Endocrinol. 2022;18(6):366-384. doi:10.1038/s41574-022-00662-x 9. Haffner D, Emma F, Eastwood DM, et al. Clinical practice recommendations for the diagnosis and management of X-linked hypophosphataemia. Nat Rev Nephrol. 2019;15(7):435-455. doi:10.1038/s41581-019-0152-5